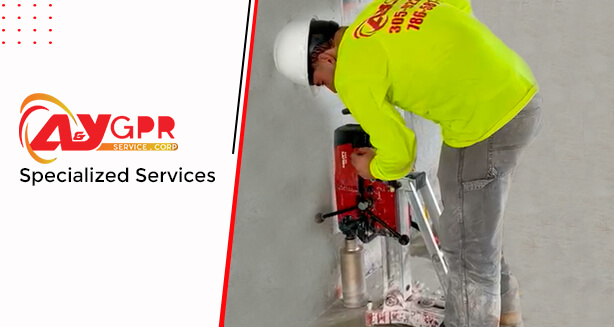 We are a company that offers Commercial & Residential sevices in all State of Florida.
Specializing in GPR Service as well as as Core Drill and Concrete Cutting.
In A&Y GPR, we provide a detailed report with results of our Scanning Service
We place our efforts in establishing long term business relationships, based on meeting our customer's needs.
Our mission is to provide quick results based on the work provided from highly skilled team.
Our company guarantees use of high quality equipment & materials.
We have no limits in Scanning Services for any Commercial or Residential project
We use Core Drilling to pass pipes through flooring, walls and ducts for changes in Construction Projects.
We accompany you in your Construction Project with great financial and technical results.
GPR SERVICES
GPR ( Ground Penetration Radar)
GPRS-trained project managers are able to locate rebar and post-tension cables, within the concrete using GPR technology.
Reinforcing steel locations are marked directly on the work surface to ensure safe and efficient drilling, that will preserve the integrity of the structure, and reduce the need for repairs or patching.
This helps our clients conduct core drilling without accidents, injuries or delay. GPR Scanning is also useful when preparing for a renovation that includes electrical outfitting, plumbing, fire protection services, drain installation and duct work.
Concrete Scanning
Concrete Scanning is protecting the structural integrity or strength of the concrete, making sure the integrity of the structure is safe.
When we detect and mark sections of reinforcing steel embedded in the concrete, it guides concrete cutters and drillers away from the steel, helping them avoid injury and protecting the integrity of the concrete.
Electric
At the beginning of your construction project, it is important that you make the respective investigations to detect any intervention on the field. Our high quality equipment can reveal if there are buried lines, so your project is carried out safely.
Plumbing
It is important that you make the respective investigations, to detect any interference in the field.
Our equipment can also reveal if there is plumbing to be detected.